"

There is something about an acoustic guitar and vocals, which to my mind it is one of the purest forms of music there is, with no room for anyone to hide. When combined with good material and strong production it can be an incredibly powerful emotional experience, and that is certainly what we have here.This EP is essential. 5 Stars." - muzic.net.nz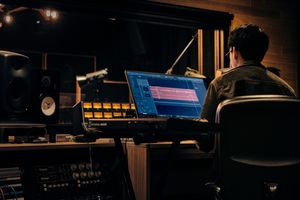 Press Photos
Biography
With passionate acoustic guitar driven songs and evocative storytelling, New Zealand's Ravenhall speaks directly to listener's hearts. By embracing an experimental electronic edge, they push the boundaries of traditional singer/songwriter music to create a sound that is wholly authentic and unique. 
Founding members Joe Ravenhall & Chris Brebner are both veterans of Auckland's music scene, with several years of history collaborating on a variety of projects. With Ravenhall they sought to embrace the emotional lyricism and open hearted melodies that drew them to music in the first place. Having Written 
over a hundred songs together,  each one bringing their own dynamic personality to fill out the band's sound. 
After spending many years performing together across New Zealand, Ravenhall made their official debut in 2015 with the release of their single 'Everything To Me.' From there they went on to release a series of singles expanding on their signature sound while continuing to build an audience in their home country. 
Ravenhall also completed production of their new EP "The Coming Storm" which introduced their intricately crafted songwriting to new listeners in New Zealand and beyond. 
Having just finished production of 'Live at Brebs Bar' the live album, along with accompanying videos will be released on all digital platforms in May 2023.